Building Learning Loops around What Generates Value
June 8, 2021 by Tina Žagar
The typical challenge with learning and knowledge sharing is that it is not easily quantifiable and does not usually happen linearly. It rather reflects connected cycles. One cycle does not necessarily lead to the other, and learning is not successful only if it reaches the final cycle. It is important to keep in mind that different aspects are likely to be important for different stakeholders.
To assure that our learning initiatives reflect the learning needs of the countries we work with, we collect learners' feedback on the usefulness and impact of our learning events. We do this by facilitating their regular reflection while learning, carrying out post-event evaluation surveys, and collecting the so-called value creation stories.
We conduct post-event evaluation surveys at the end of each learning initiative, asking the participants to complete an anonymous questionnaire. This helps us revise and improve our future learning initiatives on a particular topic and better meet participants' needs. This post-event evaluation approach is based on the Kirkpatrick's model of training evaluation, inspired by the World Bank Independent Evaluation Group and ITC ILO. We try to ensure the comparability of the survey instrument we use across time, to allow comparative analysis to the largest degree possible.
The story told by the quantitative indicators might not always be complete; therefore, we use value creation stories to complement the quantitative data regularly collected with post-event surveys.
In this blog post, we share our learnings from our experience in collecting value creation stories.
Learning #1
Through regular conversations with public officials from our constituency, we find the adjusted Wenger-Trayner value creation conceptual framework helpful for capturing the specific learning needs of the finance officials in the region. This approach gives officials an opportunity to reflect on personal experiences and adds a new perspective on the lessons learned and possible recommendations for improvement. We then feed these findings back into our programming efforts, which we are continuously striving to keep demand driven as this helps build ownership.
Learning #2
Our approach enables us to be more in contact with the beneficiary institutions in the region and build up a network of officials that we can contact at any time to inquire about particular contact persons or specific learning needs of their institutions that we at the CEF could further include in different project proposals. As a knowledge hub, we therefore – in addition to supporting learning and knowledge sharing – also assume the role of relationship managers, convening people and institutions and providing them a platform to nurture and advance professional relationships over a longer time.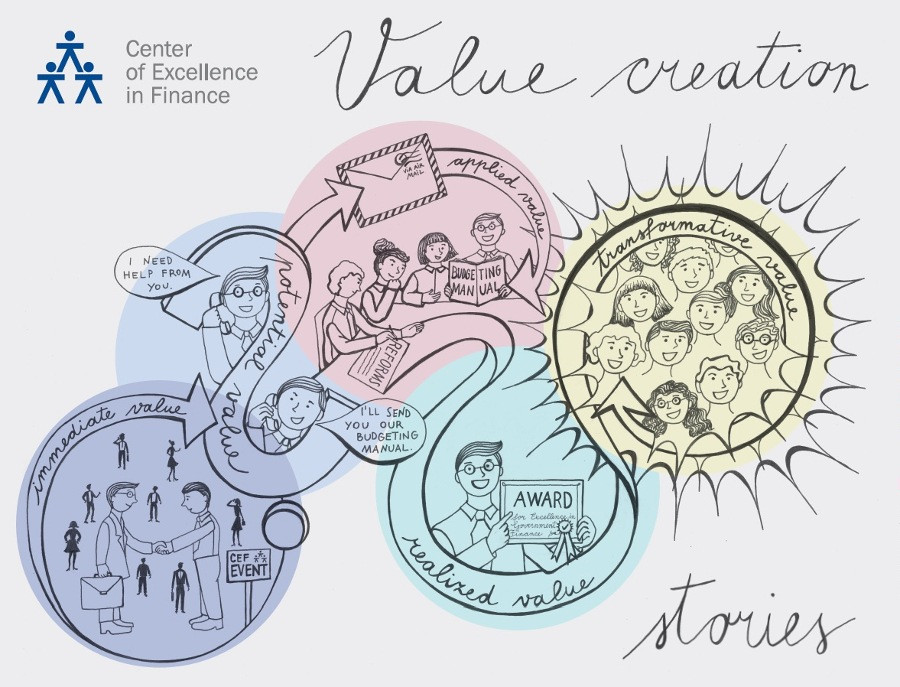 Learning #3
By telling us value creation stories, participants benefit also themselves, as it helps them voice their practice. It showcases their results, and increases their own visibility vis-à-vis peers in the region, as well as international partners, knowledge providers and donors.
Learning #4
Over the years, the collection of value creation stories has become an important element of our fundraising activities, demonstrating the created value of the CEF events to our partners, and showcasing the skills and knowledge that the participants acquire by attending the CEF learning events, both in terms of personal and organizational gain. Sometimes we realize from their stories that we add value through our work even when we are not aware of that. For an example, we realized after talking to several regional tax officials that many regard CEF learning events on tax matters unique because they tend to bring together tax officials from the policy side as well as from the tax administration. As a result, this has become one of the strong arguments in drafting project proposals for getting new partners aboard to jointly support our work in this thematic area.
Learning #5
Over time, we have paid a lot of attention to developing in-house capacity of the 'interviewers' to capture such stories. This requires good communication and active listening skills along with sufficient understanding of the addressed subject matters. Most importantly, interviewers need to have the capacity to build trust and a cooperative relationship with their interlocutors, so that they are ready to share openly and comprehensively their feedback in the account of a story.
The stories are written based on a form of face-to-face or phone interview, or e-mail correspondence, sending them initial guiding questions in advance. We also talk to participants during the events, explaining what we are trying to achieve, and agree on contacting them afterwards. Sometimes we also video record them.