Experience Your Learning Zone
January 17, 2023 by Tina Žagar, Ana Frangež Kerševan
It was an unforgettable learning experience that showed us how to make a knowledge sharing activity more efficient and engaging.
It was challenging at times but it got me to rethink the way I usually do a presentation.
This training exceeded my expectations. I experienced what a perfectly organized workshop looks like.
The tips we received about the body language, structure of the presentation, and interaction with the audience is something that I will carry with me for a lifetime.
These are only a few examples of the feedback that we often receive after delivering our Train-the-Trainer events. This training gives participants a frame of reference for understanding how learning works and how to best facilitate the learning of others. It engages participants in an experiential learning process that contributes to developing the confidence and skills required for delivering dynamic, engaging, and effective presentations and knowledge sharing activities.
People may have different experiences when attending a train-the-trainers course. Some may find that the course provides them with a wealth of new knowledge and skills that they can immediately put into practice. Others may find that the training serves as a refresher on concepts that they have learned before, helping them to deepen their understanding and improve their teaching or presenting skills.
An important feature of such learning events are the practice group sessions where participants prepare and deliver up to 20 minutes long knowledge-sharing activities. These sessions often result in participants experiencing an "Aha!" moment. They quickly realize how easy it is to come up with a list of things one should avoid when delivering a powerful presentation but how difficult things get when it is our turn to apply our own recommendations. It is the moment of understanding how complicated it is to change our practice. And changing the practice often means first unlearning the old ways of doing things. This may seem a very easy task but in fact, it takes a conscious effort to introduce changes in the way we do things. For example, people often do not use the final slide of their presentation as an opportunity to leave their audience with a message that they would like to keep in people's minds. Instead, we more often see this space used for a "thank you" message or the presenter's contact details. But using this time slot in the presentation wisely is one step towards making our talk more memorable.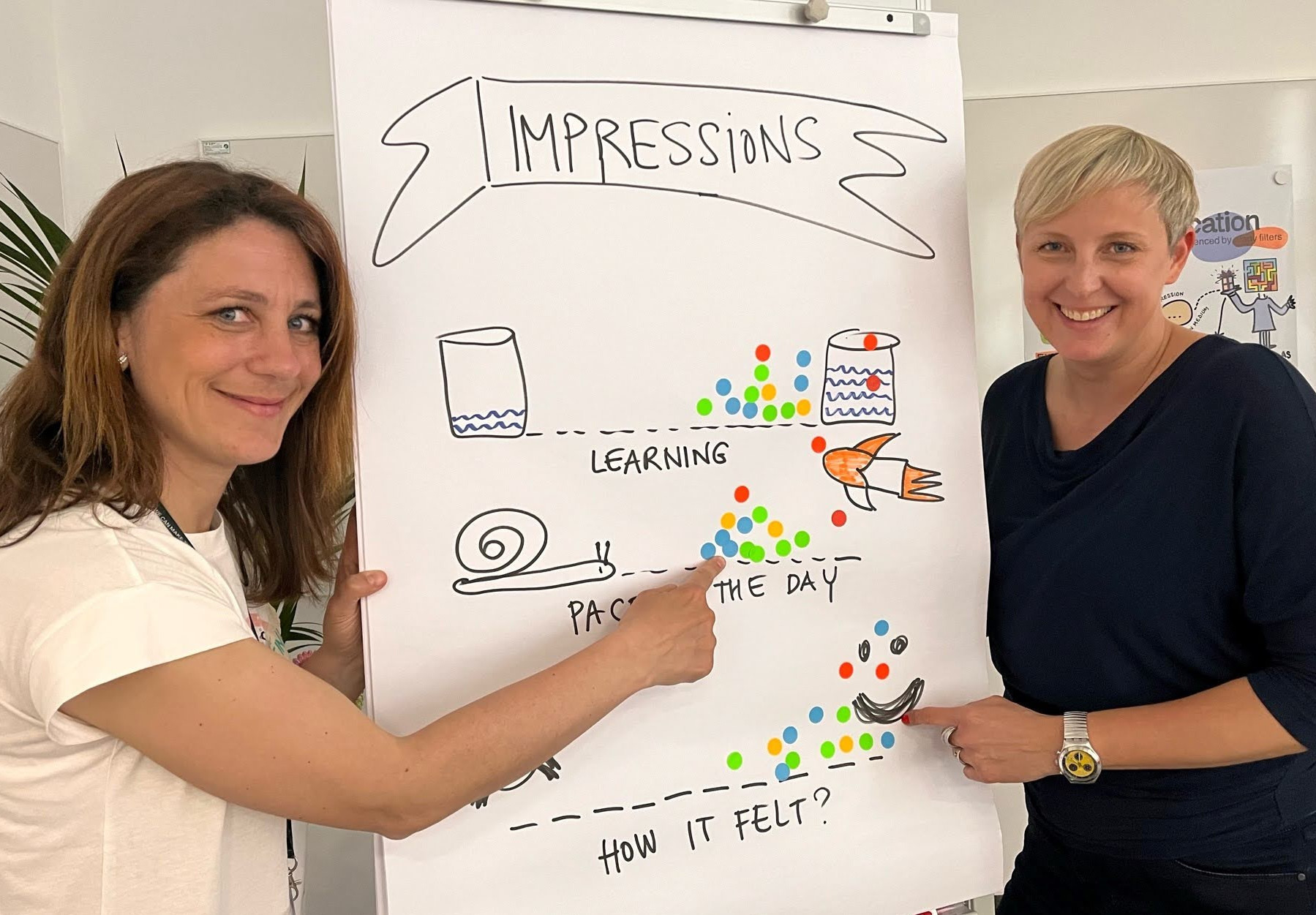 As such events also push participants to do something completely different from what they are typically used to, we pay special attention to creating a safe and stimulating learning environment. This challenges participants to step out of their comfort zones but at the same time does not overwhelm and discourage them from learning and developing new skills. Ideally, we get people to experience their learning zone – the area where they try and experiment with something different and new. We are very happy to observe the courage and openness of participants to take a plunge, and we always try to show them that even though things do not always go according to our plans, they should not look at this as having failed. They should take failure as the first attempt in learning (F.A.I.L.).
With this in mind, we carefully design the program and make sure that we create space also for fun game activities, which allow participants to get to know each another and initiate meaningful conversations. In our experiences, short introductory icebreaker games always bring a smile to people's faces. They realize that they share many things in common, and the icebreakers serve as a good conversation starter also later during coffee and lunch breaks.
We also use different participatory learning methodologies, such as think-pair-share activities, role-play exercises, starfish retrospective method, and others to help build team spirit and encourage teamwork and communication in teams. It is immensely gratifying to offer participants an eye-opening experience of the diverse world of facilitation tools and techniques that they can use to create fun and engaging knowledge-sharing activities. This makes our job very rewarding and exciting. We encourage the participants to explore and examine different ways to animate their audience but always keep in mind that these engagement techniques should be used wisely like spices in cooking. For amazing flavor, we must use spices sparingly. And the same thing applies to learning – we do not want to overwhelm our audience, so it is important that the learning methods we use support the learning objectives.
As we are strongly convinced that both questions "What knowledge to share" and "How to share knowledge" are equally important, we will continue offering such learning opportunities. Let this be also an invitation to you: visit our event section of the website and search for an opportunity to join us. In the meantime, also feel free to browse through the guidelines for participatory and experience-based learning opportunities that we have prepared both in the classroom and online.