To Which Extent is Your Institution Functioning as a Learning Organization?
May 31, 2022 by Vincent Ribiere
The learning organization concept was defined and developed more than 30 years ago mainly by the work of Bob Garratt (1987) David Garvin (1993) and Peter Senge (1990). Over the years, its popularity had ups and downs, like most management disciplines, but its relevancy and needs may never have been so important than nowadays. In our VUCA (Volatility, Uncertainty, Complexity and Ambiguity) world, institutions need to be agile and resilient and this might not happen if they are not continuously learning and transforming themselves.
A learning organization can be defined as: an organization skilled at creating, acquiring, interpreting, transferring, and retaining knowledge, and at purposefully modifying its behavior to reflect new knowledge and insights (D. Garvin, 2000)
As we can notice in this definition, knowledge and its management are at the core of the definition of a learning organization, therefore the field of knowledge management is a strong enabler to the various organizational learning processes. I personally like the simple linked definitions of knowledge and learning from Prof. Alex Bennet: "Knowledge is the capacity to take effective action and Learning is the creation of knowledge!"
Learning needs to happen at all levels of the institution: individual, team, organization and with its environment and partners (the ecosystem). It should be happening systematically in every process and should not be considered as something to be done on top of work, but as part of it. So, to which extent is your institution a learning organization? Nayak, Garvin, Maira, and Brager [1] created what they call a Quick Litmus test that is still very relevant. Let's see how well you are doing?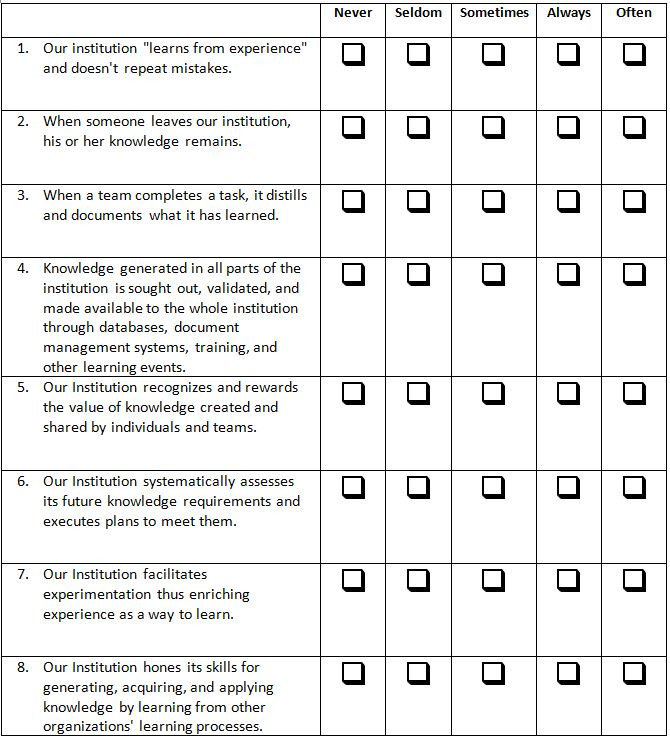 What is important is for these learning activities to be happening systematically across the institution to bring full benefits. Learning also enhances institutional capacity for innovation which is very important in implementing new reforms, in finding new ways of addressing various types of challenges, and discovering novel ideas and solutions to best achieve institutions' duties and promises to citizens.
I am certain that you may have checked a couple of "always" or "often" in the above test, but how do you more precisely assess where you stand? What are your strengths and weaknesses when it comes to functioning as a learning organization? As Peter Drucker said,"you can't manage what you don't measure!"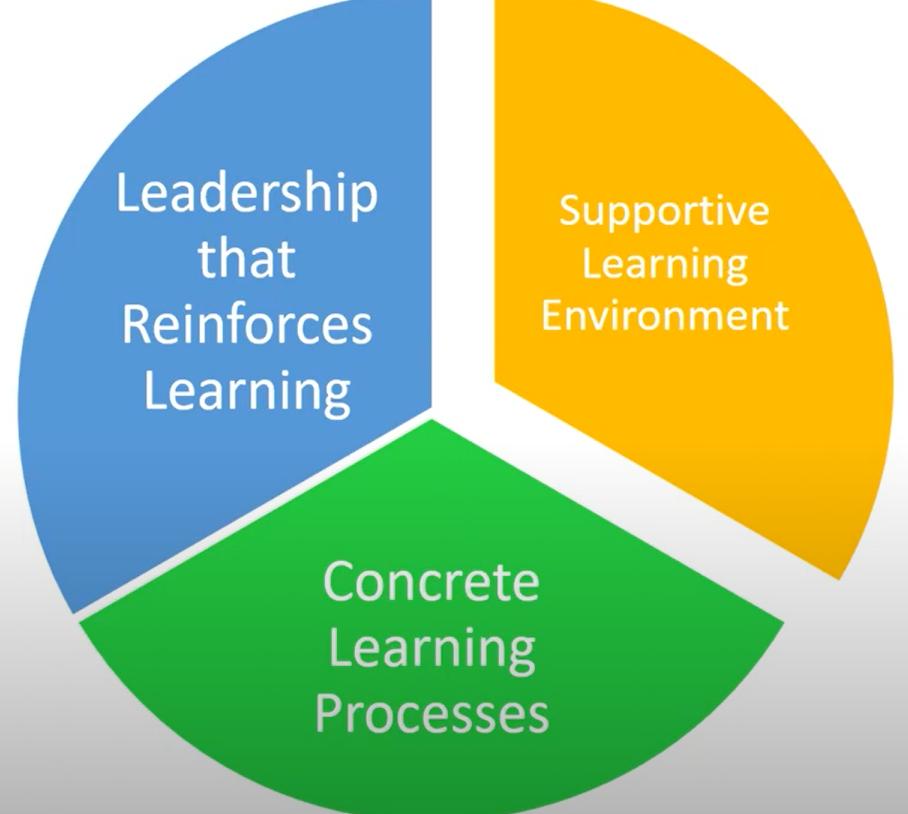 As part of its ongoing mission of empowering institutions in South East Europe to become stronger learning organizations, the CEF is launching an Institutional Learning Survey to assess what are your strengths and opportunities for improvement. The assessment is based on the LOS tool originally developed by Garvin, Edmonson and Gino (2008) [2] and will measure three main critical components to successful learning institutions:
• Having a supportive learning environment
• Having concrete learning processes
• Having leadership that reinforces learning
As Ken Blanchard has said "When you stop learning you stop growing", so I believe it applies to all of us and to our institutions, organizations and businesses. It doesn't require much effort and budget to be a learning institution, just some commitment and leadership.
Resources:
[1] P. Ranganath Nayak, David A. Garvin, Arun N. Maira, and Joan L. Brager, (1996) Creating a Learning Organization, Prism 3d quarter;pp 28–29.
[2] David A. Garvin, Amy. C. Edmondson, and Francesca Gino (2008). Is Yours a Learning Organization? Harvard Business Review 86 (3): pp. 109–116.