Recording Fixed Assets in Registries and Capturing Them in Financial Reports
Public-sector fixed assets represent a significant investment by the citizens that needs protecting. In many countries, however, information on such assets is partial at best. This has negative implications for accountability and decision-making. It is also a major stumbling block to the introduction of accrual-based accounting and financial reporting. In advanced countries, asset registries have been used to collect, verify, and systematize data about public-sector fixed assets. The purpose is two-fold: (i) to build a basis for the preparation or the revision of public entities' opening balance sheets, but also (ii) to provide decision-makers with the information that is necessary to make strategic and operational decisions.
About this learning event
This course will offer recommendations concerning the establishment, development, and maintenance of public-sector asset registries. A particular emphasis will be placed on the relationship between asset registries and financial reports. This relationship is important in that asset registries and financial reports should foster each other's improvement. However, it is not exclusive as the purposes of asset registries exceed the production of financial reports.
The course will be delivered as part of the 2022-2024 Efficient Public Sector Asset Management (EPSAM) Program. The Program's goal is to improve awareness and knowledge of public asset management as an integral part of public sector reforms and to create a network of professionals who can become a driving force in this process.
What will you learn
This online course will:
Highlight the importance of accurate and standardized information on public-sector assets, structured into solid asset records and developed asset databases.
Outline how to establish, develop, and maintain a public asset register.
Discuss the main information needs that public asset registries should meet.
Elaborate on the relationship between public asset registries and financial accounting.
Present key challenges and practical solutions for the initial identification and measurement of fixed assets in public entities' opening balance sheets.
Highlight the need for a clear regulatory framework concerning public asset registries.
Discuss the peculiar ownership issues that characterize South East Europe countries, the presence of owners, custodians, and users, and the relevant implications for financial reporting.
Provide scientifically sound and practical answers on how to record fixed assets in a register and capture fixed asset information in financial reports.
Present significant country experiences.
The course will be composed of three learning units consisting of three webinars, video-recorded presentations, supplemental reading materials, and written assignments. The total envisaged workload is about 6 -8 hours. Participants will be required to participate actively by sharing country experiences, contributing to the debates, and submitting short assignments.
Timeline and the agenda of online course: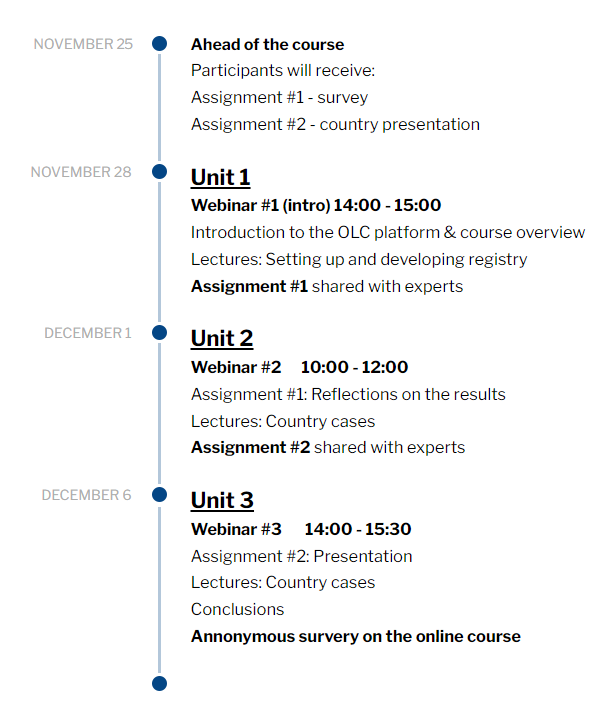 Who should attend
The course targets public officials and experts engaged in establishing, developing, and maintaining public-sector asset registries, in managing fixed asset portfolios, or in designing and implementing public sector accounting reforms. More precisely, from the CEF constituency countries, but also from countries facing similar challenges, we will invite:
Senior public officials (policy makers) at ministries of finance and other line ministries engaged in public-sector asset management.
Public sector managers and directors engaged in asset management processes, in developing and maintaining asset records, and in managing asset portfolios.
Public sector managers and directors engaged in the design and implementation of public sector accounting reforms.
Representatives of supreme audit institutions.
Representatives of academia in the areas of public sector management, accounting, and auditing.

Applications need to be submitted no later than November 20, 2022. Candidates will need to be approved by CEF. Selected candidates will be informed before training starts.
Faculty
Eugenio Anessi-Pessina, Full Professor at Università Cattolica del Sacro Cuore, Milan, Italy
Eugenio graduated from Milan's Bocconi University in 1987. He received his MA and PhD in Managerial Science and Applied Economics from the Wharton School of the University of Pennsylvania.
Currently, Eugenio is full professor of Public Management at Università Cattolica del Sacro Cuore. His work includes research, teaching, and expert support to public-sector institutions. He is also a senior fellow at the Wharton School of the University of Pennsylvania and a member of the Board established to develop IPSAS-based accounting standards for the Italian public sector. His research interests focus on public-sector accounting, both in general and with specific reference to public health-care organisations. Within this domain, specific interests include: international and national standard setting, financial statement analysis, earnings management, accounting change, internal and external auditing, budgeting, and asset management.
Marco Bisogno, Associate Professor in Accounting at the University of Salerno, Italy
Marko works in a Department of Management & Innovation Systems at the University of Salerno in Italy. He received his PhD from the University of Naples 'Federico II'. He Co-chairs the Task Force representing three research networks on public sector accounting, namely, IRSPM PSAAG, CIGAR, and EGPA PSG XII. He is an Associate Editor of the Public Money & Management — CIGAR Annual Issue and a Member of the Editorial Board of the Journal of Public Budgeting, Accounting and Financial Management. His current projects are on International Public Sector Accounting Standards, earnings management, and financial sustainability of public sector entities.
Pascal Horni, Research Associate at Zurich University of Applied Sciences, Switzerland
Pascal holds a MA in business administration with a major in public and nonprofit management. He is a research associate at the School of Management and Law of Zurich University of Applied Sciences (ZHAW). Besides lecturing, researching, and following the universities mission in applied sciences, he delivers policy consultancy, evaluations, trainings, and expertise to strengthen local and national governments' public financial management practices. Within technical assistance and good governance strengthening programs of various actors in the international development cooperation, he supported countries in the Middle East, Sub-Saharan Africa, Central Asia and South East Europe in increasing efficiency, effectiveness, and transparency in administering public finances. Prior to joining ZHAW, he worked for a big four accounting firm in the audit practice. On many occasions, he also supported the delivery of IPSAS trainings organized by the CEF.
Ahmet Ismaili, Former General Director of State Treasury at the Ministry of Finance, Kosovo
Ahmet has bee the General Director of State Treasury of the Kosovo Ministry of Finance since August 2017, appointed for a 5-year mandate. His responsibilities included budget execution management, allocation and cash planning/management, accounting and financial reporting for the general government, and core financial systems management. He has over 16 years of professional experience in senior management positions of the banking, insurance, and financial industry in Kosovo. He worked for the Austrian-based insurer in Kosovo, holding executive management positions including CEO, member of the Board of Directors, and Committees Member. Previously he worked for almost 10 years for international and local banks, holding different senior and managerial positions. He taught financial management, banking management, and risk management at the Economic Faculty of the Public Pristina University between 2007 and 2013. He is a certified senior local trainer and expert of the Kosovo Banking Association, including the programs on the European Foundation Certificate in Banking (EFCB) and the European Banking & Financial Services Training Association (EBTN). He has a PhD on economics at Pristina University, with a dissertation on public sector accounting and reporting.
Ahmet currently holds a managerial positions in two public institutions: Managing Director and Board Member of Kosovo Energy Efficiency Fund and Board Member and Audit Committee Member of the Health Insturance Fund. In addition, he lectures at the University in Kosovo, College AAB (master degree, on accounting and reporting subjects).
Maja Pogačar, Director General of Tangible Assets Directorate at the Ministry of Public Administration, Slovenia
Maja Pogačar is the Director General of Tangible Assets Directorate at the Ministry of Public Administration. She graduated in law and has a state law exam. With 16 years of experience in state asset management, she contributes in the preparation of legal regulation in this area, designs key systemic solutions, prepares directives and manages operational functions within the field.
Gorana Roje, Head of Unit for State Asset Management Strategic Planning Coordination at the Ministry of Physical Planning, Construction and State Assets, Croatia
Gorana has more than 15 years of experience in public sector accounting and public sector financial management. Her competencies are strategically located at the intersection between academia and top-level practice, and her work is focused on international and comparative public sector accounting and financial reporting, international public sector accounting standards setting and public sector financial management, with a particular emphasis on PSAM reforms. Her research has been presented at international conferences and published in scientific journals. She hosted and participated in several workshops, roundtables and trainings on topics related to public sector accounting and public sector asset management. She is the co-editor of the 2019 Palgrave book "Public Sector Accounting, Auditing and Control in South Eastern Europe". Gorana took part in the project titled Accounting and financial reporting reform as a means for strengthening the development of efficient PSFM in Croatia, was actively involved in developing a data model for upgrading the Central State Asset Registry in Croatia. In 2020, she was appointed as the deputy coordinator for state asset management strategic planning coordination activities. She is a lead expert of the EPSAM Program, delivered by the CEF.
Mohamed Salah, Director of PricewaterhouseCoopers Middle East
Mohamed is a Director in the Finance and Accounting consulting unit in PwC based in Riyadh focusing on advisory services related to asset lifecycle management and valuations. Mohamed has a masters degree in Engineering and Technology Management from the University of the West of England and over 15 years of experience working in the UK and the Middle East. He performed various valuations in asset intensive industries for the purposes of financial reporting, mergers, acquisitions, privatizations, etc. He is currently leading multiple projects to create the financial fixed asset registers as part of the cash to accrual conversion in the Kingdom of Saudi Arabia.
Partners
This learning initiative is supported by: